Camden Central School District Spirit Week/Homecoming
September 30th-October 8th, 2022
Each Fall, the Camden Central School District hosts its annual Homecoming Festival. This event is not just a celebration of our schools and our alumni, but also celebrates what it means to be from the Queen Village, and the many communities that comprise our vast District.
Our 2022 theme is "Country Living and Farming in Central New York".

We have created this webpage in hopes of providing more centralized information about the events on a yearly basis. Come celebrate with us!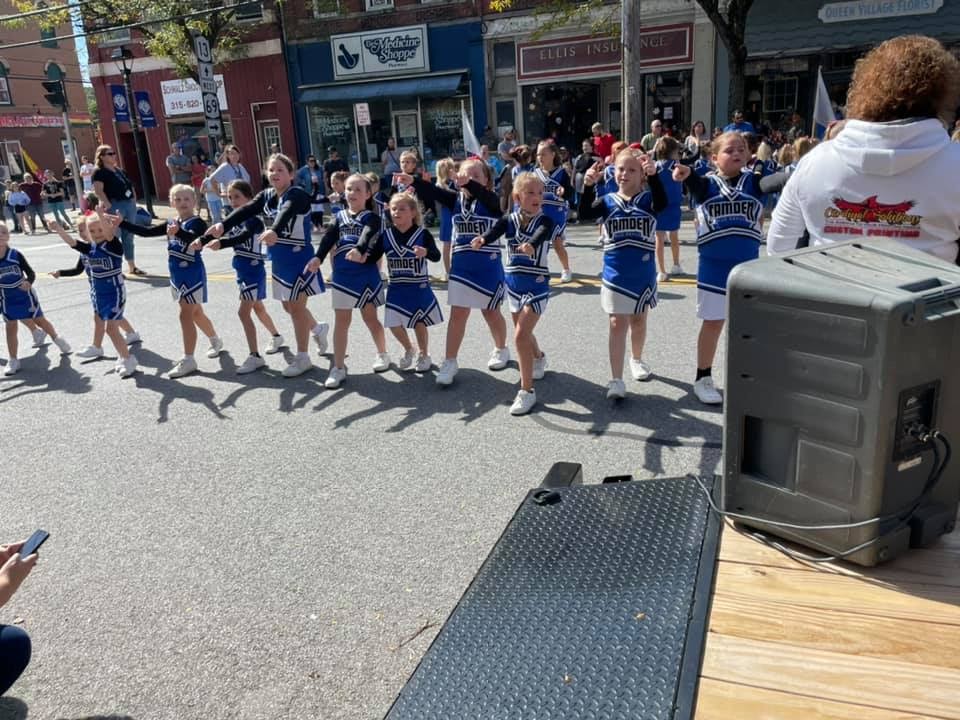 Kim Dean at Camden High School is the District's main point of contact for the Parade and Homecoming Festival events. She can be reached at Kdean@camdencsd.org. For building-level events such as spirit week, contact your child's school for more information.
Homecoming Parade - Saturday, October 8th
One of the Greater Camden Area's time-honored traditions keeps marching into 2022 with our homecoming parade. Join us in the Village of Camden on Saturday, October 8th as we spend the afternoon celebrating our school and community groups with this high energy event.
The parade route begins at Camden High School and continues through Downtown Camden. The high school parking lot will be used as a staging area, and the line of march will step off promptly at 1 p.m.

To register your school or community group to participate in the parade, click here for an online form.

A paper registration form with detailed participant instructions can be found at this link. Even if you have registered online, please take a moment to familiarize yourself with this document so we can provide an optimal environment for all.
For more information on the Parade, and Homecoming Festival events, Kim Dean at Camden High School will be your point of contact. She can be reached at kdean@camdencsd.org
Craft and Vendor Fair - Saturday, October 8th
The Camden Homecoming Festival will once again offer an opportunity for the community to gather, and give local small businesses and community groups a platform to engage residents at the Craft and Vendor Fair on Saturday, October 8th. This event is co-sponsored by Camden High School Student Leadership.

It will run from 11 a.m. to 4 p.m. in the Village Park.
A 12x12 space will have a $30 charge, these funds will be used for the next Homecoming festival in Camden.
IMPORTANT: If you will be selling food on site, you will need a health permit from Oneida County.

The Application Deadline is October 3rd.
If you have any questions please contact Sydney Dean at (315) 225-5836 or at sydneydean1129@gmail.com.

Payments can be sent to: Camden High School Student Leadership; 55 Oswego Street, Camden NY 13316.

They can also be dropped off to Camden High School Main Office during school hours.
Building-Level Spirit Week Schedules
If you don't see your building listed here yet, it is still in the process of being finalized by the building's administration and student council.

Friday, 9/30
Kickoff dance, 7-9pm in the high school gym!
$5 a ticket, tickets will be sold during lunch periods from Monday, September 26-Wednesday, September 28, 2022.
Monday, 10/3
Camouflage/Animal Print/Nature Day
Girls Field Hockey plays CVA
4:30 JV, 6pm Varsity
Tuesday, 10/4
USA/America Day
JV Football takes on Canastota at 4 p.m.
Boys Soccer plays Holland Patent at 6:30pm
Wednesday, 10/5
"Class Wars"
Seniors wear black
Juniors wear red
Sophomores wear green
Freshman wear orange
Faculty and staff wear pink
Girls Field Hockey plays Holland Patent
4:30 JV, 6pm Varsity
Thursday, 10/6
Blue and White Day
Girls soccer plays Whitesboro at 4:15pm
Friday, 10/7
No Student Attendance
Girls Field Hockey plays Notre Dame at 3:30
Girls Soccer plays Notre Dame at 7pm

Saturday, 10/8
Varsity Football takes on South Jefferson at 6 p.m.
Monday, 10/3
Sports Day
What team are you rooting for? Show your team pride!

Tuesday, 10/4
Twin Tuesday
Twins? Triplets? See if you can match your friends!

Wednesday, 10/5
Country Wednesday
Yeehaw! Time to get country, y'all!

Thursday, 10/6
Blue and White Day
Show your Camden spirit!
Friday, 10/7
No School
McConnellsville Elementary
Monday, 10/3
Dress Like a Farmer Day
Wear any combination of hats, suspenders, jeans, flannels, boots, etc.

Tuesday, 10/4
Dress Like a Farm Animal Day
You decide. Wear black and white for a cow, brown for a horse, pink for a pig, or something else!

Wednesday, 10/5
Wacky Wednesday
Mismatch clothes, shoes, socks, be as silly as you want!

Thursday, 10/6
Camden Pride Day
Wear Blue and White or a Sport Uniform. Let's see that Camden Spirit!

Friday, 10/7
No School
Monday, 10/3
Hat Day
Wear your favorite hat!

Tuesday, 10/4
Blue and White Day
Let's see your Camden Spirit!

Wednesday, 10/5
Wacky Wednesday
Dress as silly as you want to be!

Thursday, 10/6
Country Day
This is also the theme of Saturday's Parade!

Friday, 10/7
No School